Muscles and motion are the same in all athletes, human or other.

All athletics stress the muscular system. This causes tightening of the muscle fibers. At the point of stress, "knots" form. Over time these "knots" add more fibers, compromising freedom and ease of motion. Pain and discomfort arise and resistance develops.

The athlete can no longer perform at peak efficiency or power.

Breaking apart the adhered fibers and loosening the whole muscle returns the athlete to full potential.

Warming up and stretching can not release "knots."

Only direct pressure, cross fiber friction and compression of the muscle fibers, along with proper follow-up exercise, restore the tissue to normal function.
Springfield Kennel Club
BCNE Specialty, November 1999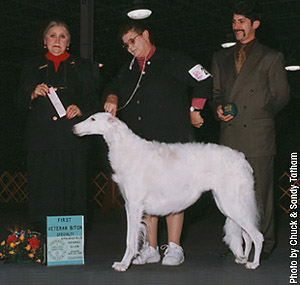 "Lily is a Borzoi and turned 10 years young in August, 2000. Thanks to you she is still able to enjoy doing many activities comfortably, including obedience and agility."
Lynn DePrizio
Am/Can Ch Pagerr Diamond Lil
CD, JC, CGC